Just put the left and right lift frame on each side of the vehicle before use Hydraulic Small Lift Elevator Platform.Get rid of the dependence on power supply and venues in road rescue, door-to-door service, car wash and beauty industry.LUXMAIN Quick Lift has Excellent waterproof and anti-corrosive properties.The whole frame can even be soaked in water.All the parts, including packaging box,Can be loaded by a van.LUXMIAN Portable Quick Lift have got the CE certification ,too.
A jack is very convenient of couse, but a LUXMAIN Hydraulic Small Lift Elevator Platform is much more convenient then a jack.LUXMIAN Portable Quick Lift Which is a convenient and portable electric hydraulic car lifting system .It can lift a vehicle by directly using itself power supply .

| | | | |
| --- | --- | --- | --- |
| Model No | L-750E-1 | Supply Voltage | DC12V |
| Frame spread length | 1746mm | Mini Height | 88mm |
| Frame Length | 1468mm | Max.Lifting Height | 460mm |
| Max.Lifting Capacity | 3500kg | Single side width of lifting frame | 315mm |
| Single frame weight | 42kg | Power unit weight | 20kg |
| rising/lowing time | 20~30sec | oil tank capacity | 4L |
LUXMAIN Precision Industry Co.,Ltd was founded in 2007, locates in Yantai City. We are a manufacturer of inground car lifts and a member of China Automobile Maintenance And Repair Equipment Trade Association.
LUXMAIN Precision Industry Co.,Ltd was founded in 2007, Equipped with over 100 sets of advanced manufacturing equipments and precision inspection instruments, LUXMAIN dedicates in the design & development, manufacturing and services of inground lifts, hydraulic cylinder and hydraulic control system. The annual production capacity in inground car lifts reaches 10,000 sets, specialized high pressure oil cylinders reaches 40,000 pieces and hydraulic control system reaches 10,000 sets. The products are mainly car jack lift, Quick Lift, Inground Lift, etc. Our Hydraulic Small Home Lift Elevator Platform are widely applied in Automotive Industry, Vehicle maintenance, Construction machinery etc.

Hydraulic Small Home Lift Elevator Platform Safety regulation:
·The maximum lifting weight should not exceed 3500 kg, and the load unevenness<3:2 (in the front and back direction of the vehicle).
·Operators must be trained before they can take up their posts.
·The operator must pay attention to the equipment condition during the whole process of lifting up or down to prevent dangerous situation from happening.
·In the process of lifting or descending, it is strictly forbidden to erect a person under the vehicle.
·It is strictly forbidden to climb when the Hydraulic Home Lift is up or down.
·When equipment is raised and repaired, turn off the power switch to prevent touching the control button and cause accidents.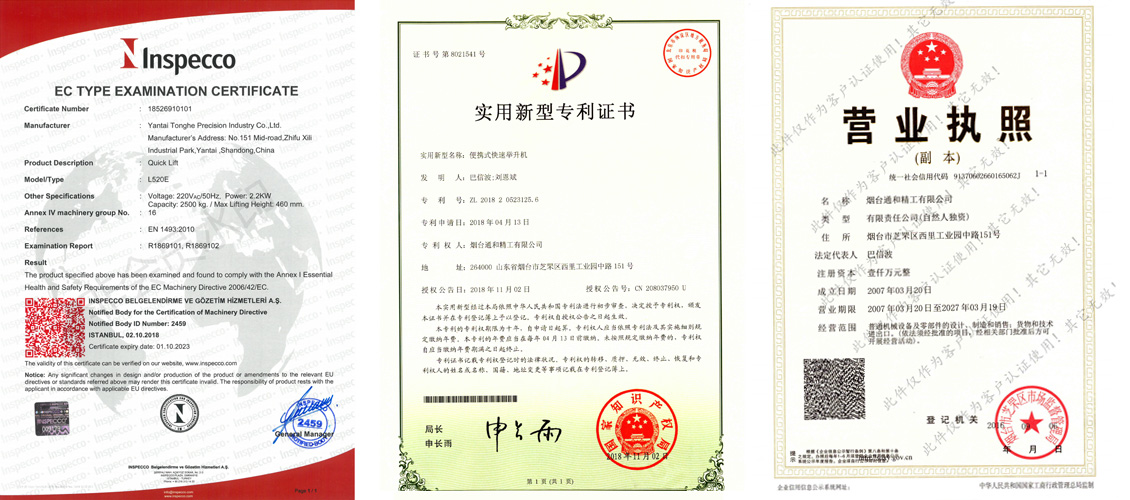 FAQ:
1.What is the height of high palm equipped with the quick lift ?
It can be up to 460mm equipped with rubber block ,can be up to 560mm with high palm
2.What is the temperature that he quick lift need 46# hydraulic oil? Use which hydraulic oils below this temperature?
3.Recommendation: Use 46# anti-wear hydraulic oil when the local average temperature is less than -10 °C. It is recommended to use 32# anti-wear hydraulic oil when it is less than -10 °C.
What is the motor power of the quick lift?
12V power unit needs 1600W,220Vpower unit needs 750W。
4.Can the inverter be used with the 12V or 220V quick lift? any size can be used?
5.Inverter can be used. 220V can be converted to 12V and DC transformer is available. 220V power unit needs to use 12V to become 220V inverter, and the power needs to be greater than 1.5KW. In the same way, if the generator is used to drive 220V, the power is also required to be greater than 1.5KW.
Can a quick lift make a taller lifting frames?
This product is not customized, more product models please look through official website.