The LUXMAIN in-ground lift is a Hydraulic Lifter designed for hydraulic lifting platforms such as vehicle repair, maintenance, and car wash. The sleek design makes the LUXMAINLUXMAIN in-ground lift very reliable. The LUXMAINLUXMAIN in-ground lift uses electro-hydraulic drive, which requires very little hydraulic oil and has a very smooth rise and fall.

| | | | |
| --- | --- | --- | --- |
| Max. lifting weight | 3500kg | Max. lifting height | 1850mm |
| Lifting (Descent) time | 50s-90s | Power supply | AC380V/50Hz |
| Power | 3kw | Air pressure | 0.4-0.6Mpa |
| Noise (Measuring at the console) | ≤70dBA | | |
The Hydraulic Lifter is mainly realized by the pressure transmission of hydraulic oil to realize the lifting function. Its shearing fork mechanical structure makes the lift hoist has high stability, wide working platform and high carrying capacity, which makes the working range higher. Large and suitable for multiple people working at the same time. It makes aerial work more efficient and safer.
Most models adopt a one-way cylinder. When rising, the vane pump outputs high-pressure oil through a series of control valves and pipelines to enter the lower part of the cylinder, pushing the cylinder up and driving the platform to lift; when descending, the vane pump stops and the control valve opens to drain. In the circuit, the platform slowly descends under the action of its own weight, and the hydraulic oil in the cylinder is squeezed out and drained.

Company Information:
Yantai Tonghe Precision Industry Co.,Ltd was founded in 2007, locates in Yantai City. We are a manufacturer of inground car lifts and a member of China Automobile Maintenance And Repair Equipment Trade Association.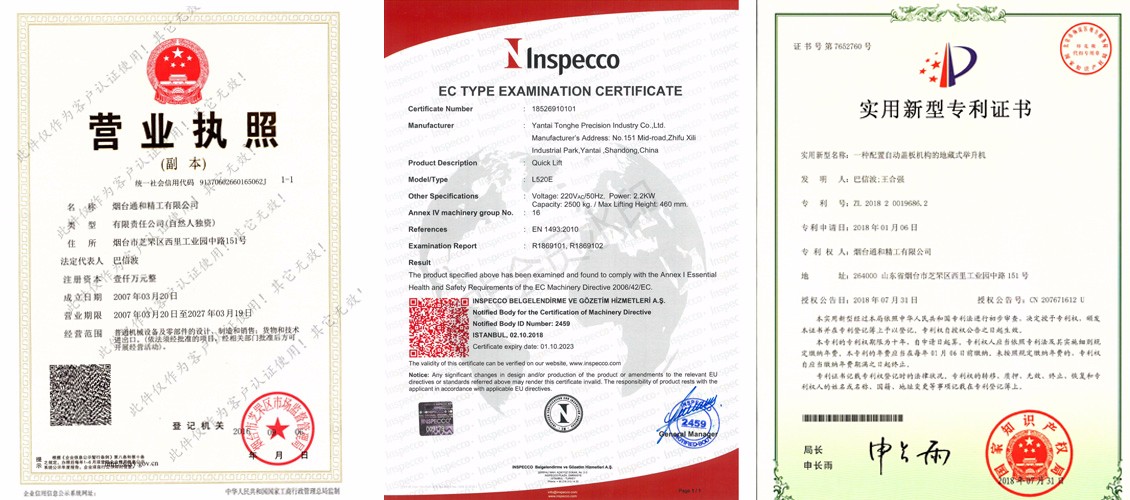 Equipped with over 100 sets of advanced manufacturing equipments and precision inspection instruments, Yantai Tonghe dedicates in the design & development, manufacturing and services of inground lifts, hydraulic cylinder and hydraulic control system. The annual production capacity in inground car lifts reaches 10,000 sets, specialized high pressure oil cylinders reaches 40,000 pieces and hydraulic control system reaches 10,000 sets. The products are mainly car jack lift, Quick Lift, Inground Lift, etc. Our products are widely applied in Automotive Industry, Vehicle maintenance, Construction machinery etc.
Companies keep the direction of "professional, standards,innovation", guided by technological innovation, quality assurance as a guarantee, to provide users with safe, accurate and efficient standardized products, personalized customization.
FAQ:
1.What is the height of high palm equipped with the quick lift ?
It can be up to 460mm equipped with rubber block ,can be up to 560mm with high palm
2.What is the temperature that he quick lift need 46# hydraulic oil? Use which hydraulic oils below this temperature?
3.Recommendation: Use 46# anti-wear hydraulic oil when the local average temperature is less than -10 °C. It is recommended to use 32# anti-wear hydraulic oil when it is less than -10 °C.
What is the motor power of the quick lift?
12V power unit needs 1600W,220Vpower unit needs 750W。
4.Can the inverter be used with the 12V or 220V quick lift? any size can be used?
5.Inverter can be used. 220V can be converted to 12V and DC transformer is available. 220V power unit needs to use 12V to become 220V inverter, and the power needs to be greater than 1.5KW. In the same way, if the generator is used to drive 220V, the power is also required to be greater than 1.5KW.
Can a quick lift make a taller lifting frames?
This product is not customized, more product models please look through official website.