Garage Hydraulic Car Lift are one of the most commonly used equipment in auto repair shops. It lifts the repaired car to a certain height from the ground, so that the repairman can enter the bottom of the car, or perform tire disassembly and four-wheel positioning. It brings great convenience to the repair work. In addition, the price is low and the use is simple. Therefore, it is as large as the 4S shop of the car, as small as the roadside repair booth, and even the oil shop and the car wash line have put forward the demand for the lift. Strong demand has driven the manufacture and sale of lifts. The production lift does not require too much equipment and has a low barrier to entry. Therefore, it is now a state-owned military factory, a listed company, a small individual workshop, and a village-run enterprise.
Just use the left and right lifts on both sides of the vehicle before use. LUXMIAN Portable Quick Lift This is an easy to carry electrohydraulic lifting system. Garage Hydraulic Car Lift can use its own power supply to directly lift the vehicle. Get rid of the dependence on roadside rescue, door-to-door service, car wash and beauty industry power and location. The LUXMIAN portable rapid lift has also passed CE certification. The LUXMAIN Hydraulic Car Lift Service Station Ce has excellent water and corrosion resistance. The entire frame can even be immersed in water. "

| | | | |
| --- | --- | --- | --- |
| Model No | L-520E | Supply Voltage | AC220V |
| Frame spread length | 1746mm | Mini Height | 88mm |
| Frame Length | 1468mm | Max.Lifting Height | 460mm |
| Max.Lifting Capacity | 2500kg | Single side width of lifting frame | 315mm |
| Single frame weight | 39kg | Power unit weight | 20kg |
| rising/lowing time | 20~30sec | oil tank capacity | 4L |
LUXMAIN Precision Industry Co.,Ltd was founded in 2007, locates in Yantai City. We are a manufacturer of inground car lifts and a member of China Automobile Maintenance And Repair Equipment Trade Association.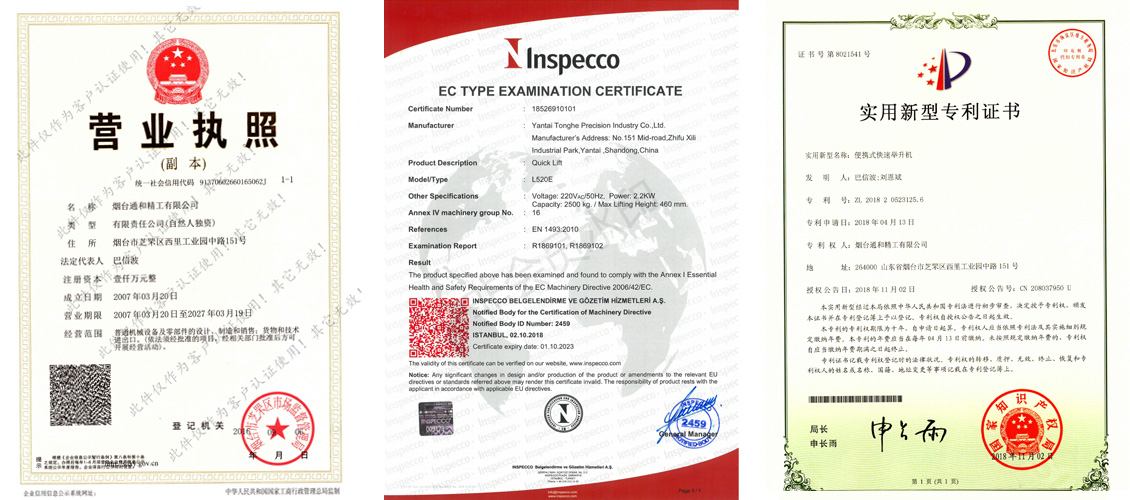 Equipped with over 100 sets of advanced manufacturing equipments and precision inspection instruments, LUXMAIN dedicates in the design & development, manufacturing and services of inground lifts, hydraulic cylinder and hydraulic control system. The annual production capacity in inground car lifts reaches 10,000 sets, specialized high pressure oil cylinders reaches 40,000 pieces and hydraulic control system reaches 10,000 sets. The products are mainly car jack lift, Quick Lift, Inground Lift, etc. Our products are widely applied in Automotive Industry, Vehicle maintenance, Construction machinery etc.

There are many types of Car Lift, and different types differ in structure and function. Before purchasing the Hydraulic Car Lift, you should first determine what your lift is for, and then choose the appropriate Hydraulic Car Lift type for your application.When purchasing a Car Lift, safety should be the top priority, and its safety indicators, safety device functions, and the responsibility of the manufacturer for safety should be carefully examined.
FAQ:

1.What kind of vehicles can LUXMAIN quick lift be lifted?
The quick lift is suitable for vehicles with a wheelbase between 2400mm and 3000mm, which includes most A and B class vehicles and some C-class vehicles.
2.What is the maximum lifting weight of LUXMAIN Quick Lift?
Depending on the type of product, the maximum lifting weight of Quick Lift can be within 2.5t or within 3.5t. This figure also covers most of the daily use vehicles.
3.Can the power supply of LUXMAIN Quick Lift be 110V or 380V?
The 110V power supply can be realized by supporting the corresponding 110V power unit; for safety, the 380V power supply is not recommended.By changing the power outlet, it can adapt to the power interface standards of all countries in the world.
4.What is the weight of Luxmain Quick Lift?
The single-sided lifting frame weighs approximately 42kg and is equipped with a roller that can be dragged or translated. The power unit is about 23kg.
5.What is the warranty of Luxmain Quick Lift ?
One year
6.Is Luxmain quick lift waterproof,dustproof,corrosion resistant?
It has excellent waterproof,dustproof,corrosion resistance, and the lift can even reach the level of "bubble water", which can adapt to work in muddy and humid environment for a long time.